Rhythm:Main UI
From Girlfriend Kari Wiki
Home Screen
This is the home screen that appears when you start the game.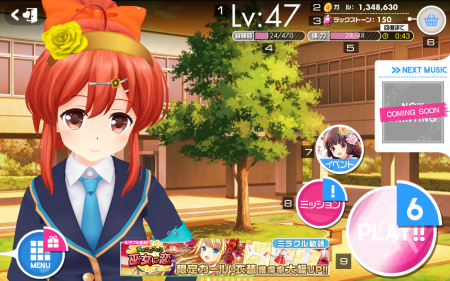 Level
Money
Luck Stones
Current EXP/EXP required to next lvl
Stamina
Shop button
Event
Menu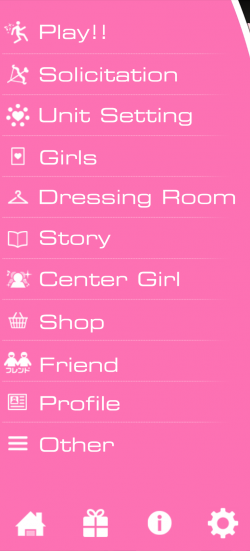 Play - Go to the song selection menu
Solicitation - Go to the gacha screen
Unit Setting - Set your unit.
Girls - You can do lesson/evolve or graduate the girls on this menu.
Dressing Room - Level up or sell your clothes on this menu.
Center Girl - Communicate and level up the closeness of your center girls on this menu.
Shop - Refill stamina/increase the card slot and purchase Luck Stones on this menu.
Friend - Check/add/accept friend on this menu.
Profile - Check your profile on this menu.
Other - You can get the transfer code on this menu.
House button - go to the home screen.
Gift box - receive presents here.
(i) - latest information and updates.
Gear button - Change the settings.
Setting
Audio Setting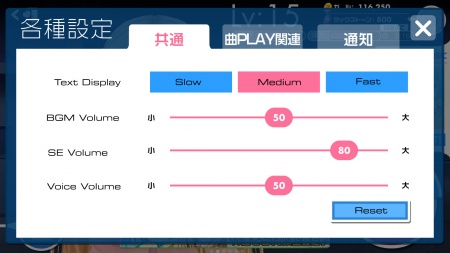 Audio settings affect the whole game.
Text speed display : Slow/Medium/Fast
BGM Volume
Sound Effect volume
Voice volume
Graphic Setting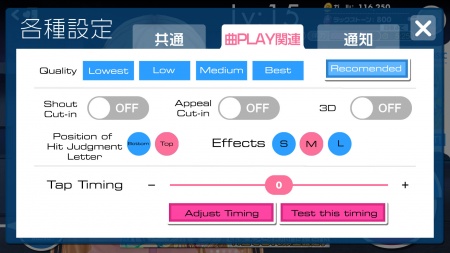 Graphic settings will only affect the song gameplay.
Quality - let the game adjust the setting for you, this will not affect the graphic quality.
Shout cut-in - enable/disable character cut-in when skill is activated.
Appeal cut-in - enable/disable cut-in when costume appeal is activated.
3D - Use 3D while performing/playing songs (does not affect home/center girls/etc)
Hit Letter position - Adjust whether the hit accuracy (Perfect/Great/...) shows at the top of the screen or the bottom.
Effects - Small/Medium/Large
Tap Timing - adjust the timing for button tap. This is pretty much timing calibration.
Notification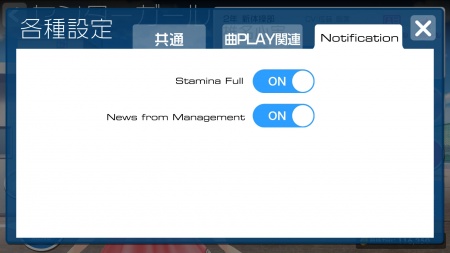 This will affect the notifications that the app will show you.