Fumio Murakami
From Girlfriend Kari Wiki
Introduction
口数が少なく、いつも本を読んでいる図書委員。感情表現が苦手で口下手のため、うまく他人と打ち解けられないが、それでも自分に声をかけてくれる人には感謝している。望月エレナと仲が良い。
Description
A 3rd Year who works in the School's Library, she is the starter for players who pick COOL as their stat.
Always carried a book, she is a poor speaker whom can be misleading but she has a strong inner personality. Has a strong interest in a romantic relationship.
While she speaks polite tone which is natural since she is a senior (the player is a 2nd year). If the relationship is to progress (or by card) there is a rare informal tone in dialogue.
Although I love cake, or the minute you eat are doing to the chest? About style is good to say.
Anime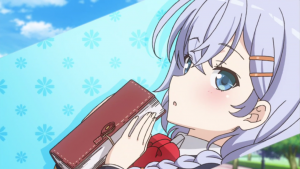 Cards