Rhythm:Cupid
From Girlfriend Kari Wiki
Function
Similiar with original card game, you can acquire new girl into your team by using cupid. In Girlfriend (♪) Cupid system is reffered as "Solicitation".
There's 2 type of Solicitation: Miracle and Friend.
Miracle
You can acquire R rarity or higher girls or clothing items from Miracle Solicitation.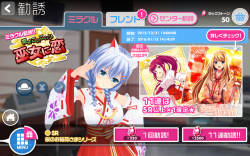 To perform Miracle Solicitation, you have to spend Luck Stones. Luck Stones can be acquired by clearing song achievement or mission and story.
There's 2 option for Miracle Solicitation:
250 Luck Stones for 1 draw
2500 Luck Stones for 11 draw with 1 guaranteed SR minimum.

Chances for Miracle Solicitation: SSR: 1.50% SR: 9.00% R: 89.50%
Friend
You can acquire N rarity girls and power mists to level up your clothes and chance of R cards from Friend Solicitation.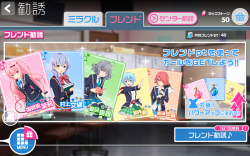 To perform Friend Solicitation Friendship point is required. Friendship point can be acquired by clearing songs (10 pts/clear) or song achievement. There's 2 option for Friend Solicitation:
100 Friendship point for 1 draw
1000 Friendship point for 10 draw
Friend Solicication is free for one time every day.