Difference between revisions of "Emi Sagara"
From Girlfriend Kari Wiki
---
Latest revision as of 13:27, 23 May 2020
Introduction
「はい、それじゃ見ててね。お手玉4つなら、簡単なんだから。…こう、ほいほいほいと。ほら、これくらい簡単なんだよ~ …おっ、そこの男子、拍手ありがと~…と、あらら。」
Description
A bright and cheerful girl whom wanted to become a street performer, whom she dreamed since childhood and ever since aspire to that path.
Such motiviation iniate her to build her own club within the school.
While she is originally clumsy but her continues day-to-day practice along with her determination (along with the player's support) boost her skills and confidence.
Considerably bustiest of all 2nd years, for such petite figure.

Loves Squirrels.
Anime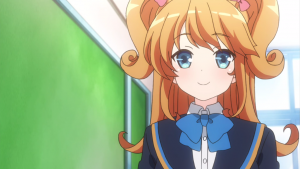 Cards